| | | | | |
| --- | --- | --- | --- | --- |
| [ | mood | | | satisfied | ] |
For someone who goes to even the lamest tourist spots when abroad, I have never really explored Intramuros. So, when my Toronto colleagues visited us, I finally got the perfect opportunity to do so.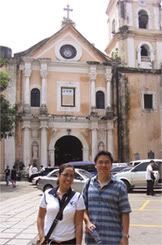 We took a walking tour called If These Walls Could Talk, which I had discovered while blog-hopping. Carlos Celdran, our tour guide, was quite a sight. He took us around the city within walls like the Pied Piper of Intramuros, clad in a barong and playing songs reminiscent of the historic period on a small radio. A messenger bag filled with pictures and whatnots hung on one shoulder, with a speaker wrapped around his waist and a microphone taped to his face. But even more interesting were the stories he recounted and the animated way with which he told them.

The tour started at Fort Santiago, where we heard about a prehistoric Manila and how Spain conquered it; learned about how Jose Rizal was the 'it' guy, even if he was actually just as tall (or rather, as short) as President GMA, and saw the spinal column of Jose Rizal with a bullet lodged in it. Next was a calesa ride around Intramuros, which took us to the 400-year old San Agustin church and convent. Here we looked for turtles in a pond, visited tombs, and learned more about the Spanish, Japanese, & American colonization. Lest you be discouraged about having to hear about Philippine history again, I tell you -- this was not boring at all. Carlos was such an excellent storyteller that a group of priests doing the rounds in Father Blanco's Garden decided to stop and watch him, cheefully waving to us as Carlos announced "The Church was our enemy!" Haha. History lesson done, we then traipsed over to Casa Manila to take a peek into the extravagant lifestyles of the Filipino elite of the era. They threw their poop out on the streets. Nice.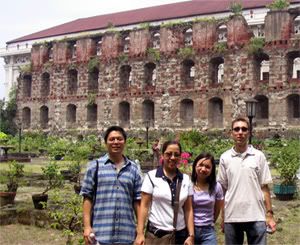 Owen, me, Rose, and Michael at Father Blanco's Garden.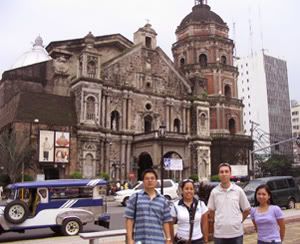 Binondo Church. This wasn't part of the tour, but Sweetie Pao, being a
Chinese mestizo (bwahaha!), kindly offered to tour us around Chinatown.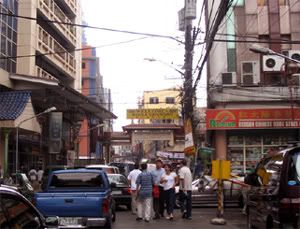 Busy, busy Chinatown. That's Sweetie Pao, Owen, and Michael
in the middle of the street.